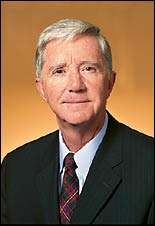 Thomas S. Chambers, F.C.A.
Corporate Director/Business Advisor
PROFILE
Tom Chambers is an experienced professional accountant, senior executive, corporate director and business advisor having served for 26 years as a Partner in senior management roles with PricewaterhouseCoopers LLP while advising a wide range of clients. For the past ten years he has served as an independant director for a number of large public companies and several private enterprises. He is an acknowledged leader within the profession and business community on strategic and corporate governance issues. In his advisory capacity he has assisted companies in focusing on core strategic issues that drive enhanced performance on a wide range of business opportunities and challenges.

Currently, Mr. Chambers through Senior Partner Services Ltd. acts as an Advisor and Director to a number of companies.
RANGE OF EXPERIENCE
From 1976 to 1986 he was the Partner-in-charge of the Special Services Department of Price Waterhouse in Vancouver which provided accounting, auditing, administrative and business advisory services to private companies. From 1986 to 1996 he was the B.C. Regional Managing Partner of Price Waterhouse during which the B.C. firm had an impressive growth and bottom line improvement. He served on the Price Waterhouse Board from 1987 - 1996. Following the firm's reorganization in 1996 into business units, he became the National Managing Partner of the largest business unit responsible for audits, accounting and business advisory services. Upon the merger in 1998 with Coopers & Lybrand, Tom continued in this role but with a business unit twice the size at approximately 2000 people. At this time he relocated to Toronto. He retired from the firm in 2002 and returned to Vancouver.
From 2002 to 2012 Mr. Chambers has acted as an independant director to six public companies and a number of private companies. He has Chaired five public company audit committees.

From 1982 to 1996 Mr. Chambers was National Chair of Price Waterhouse's Technology Board which was responsible for formulating and implementing the firm's technology strategies. From 1989 - 1996, he was a member of the Global Steering Committee (Chair 1994 - 1996) of the Price Waterhouse Technology Research Centre in Menlo Park, California and was a member of the Review Board of Price Waterhouse's Technology Forecast.

Tom has actively supported his profession throughout his career serving on a number of Institute of Chartered Accountants of British Columbia committees. He chaired the Institute's Task Force on Investment Advice, was a member of the Canadian Institute of Chartered Accountants National Specialization Council from 1996 - 2002 (Chair 2000 - 2002) and lectured Institute students and others under a number of evening extension programs at the University of British Columbia. Tom has been a member of CICA's Canadian Performance Reporting Board since 2006 and has been Chair since 2011.

Throughout his career he has contributed to his community by serving as a Director, Trustee and Treasurer for a number of societies in Vancouver and Canada including the Endevour Society, the Alexander Foundation, Spirit Search, Dr Sun Yat Sen Garden Society, the National Ballet of Canada, the B.C. Cancer Foundation, VON Canada and was the founding Chair of the BC Chapter of the Institute of Corporate Directors. Since 2002 he has been a Director and President from 2004 of the Health and Home Care Society of British Columbia. (formerly VON B.C.)
SPECIFIC EXPERIENCE
Working with owner managers and Boards of Directors, Tom has provided counsel to his clients on a wide range of business issues over many years. His focus has been on providing strategic business advice aimed at growing the enterprise and adding shareholder value. His macro economic knowledge and understanding of people have helped his clients in dealing with their most challenging issues while maintaining the utmost of confidentiality.

He has provided audit services to a wide range of clients and industries including a number of forestry clients (Canfor), mining clients (Placer Dome) financial institutions including banks (Hong Kong Bank of Canada), trust companies (Yorkshire Trust), insurance companies (Seabord Life) and mutual funds (Peter Cundill & Associates), real estate companies (Concord Pacific Group Inc.) and high technology companies (GEAC).

As Regional Managing Partner and National Managing Partner, Tom has been responsible for setting business strategy and managing the implementation of the strategy through detailed business plans and budgets. During this period, he emphasized hiring, developing and retaining the best and brightest people.
Tom has had significant public company Board experience including serving on the Boards of Viterra Inc., Catalyst Pulp and Paper Corporation, Tersasen Inc., Elephant and Castle Group Inc., MacDonald, Dettwiler and Associates and Coopers Park Corporation. He has Chaired five of these companies' Audit Committees. He also serves on a number of private company Boards including the Armstrong Hospitality Group, the Aspen Group and the Highland Pacific Mortgage Corporation. He previously served on the Price Waterhouse Board and the Board of the Standards Council of Canada.

As a trusted family advisor, he is a trustee of a number of family trusts and has provided services to a number of family controlled Real Estate Companies.

In 1995, Tom was recognized by the B.C. Institute of Chartered Accountants and was awarded his FCA in recognition of his long service to his profession, his firm and his community.